I had been looking forward to the program Sunday afternoon featuring Digital Desperados called "The Best of GLITCH" since I heard about their film festival in the spring 2015 and i was so happy that I would get to see some of the films. And because I had the pleasure of spending the afternoon with Nosheen and Cloudberry the day before, I was even more excited to see the fruit of their labor. After the screening, Nosheen and Tara Brown led a discussion about the films and their work.
"Digital Desperados are a Glasgow-based charity which run free filmmaking courses for women (trans welcome) of colour and hold free film screenings of films by/about people of colour. Glitch was their first dedicated 10 day *QTIPoC film festival from the 19th – 28th March 2015 – the first of it's kind in Europe!
All films were subtitled and all live events were BSL interpreted
*queer(& lgb)/trans /intersex people of colour"
Here is the program:
What I Love ABout Being Queer Dir. Vivek Shraya, Canada, 2012 | 18 mins 23
34 beautiful Queers. One big question.
Drone Dir. Sharlene Bamboat, Canada, 2012, 1:53 min
Drone: a remote controlled aerial vehicle or missile; a monotonous speech.

Drone: a reaction to the current United States government drone attacks in Northern Pakistan. 
Drone examines the shifting nature of the language of war in the redefinition of the terms "civilian" and "casualty."
The Homecoming: A Short Film About Ajamu Dir. Topher Campbell, UK, 17 min
This film follows and interviews the warm and engaging photographer Ajamu. It highlights the important significance of his skilled photography and his nuanced representation of black, gay men.
Womb Child | Dirs Andra Simons, Joao Trinidade & Coralita Simons, UK & Bermuda, 2015, 3 mins 26
In The Ladies Lounge Dir. Fadia Abboud, Australia, 2007, 12 mins
Two contemporary Lebanese Australian dykes come across an old poster from Beirut in 1926 of two women dressed in suits… Some things may have changed, some things certainly haven't. *contains brief nudity*
On the Road Again Dir. Azra K, UK, 2013, 9 min 37
A poetic look at movement, sex and the open road and how necessary it is in the filmmaker's life.
Purging Dir. Nabeela Vega, USA, 2013, 1 min 32
Nabeela Vega uses a split screen to create tension between simultaneous actions as the artist adorns, effects and purges fluid from their body in a ritual of cleansing and sacrifice. The body is referenced and explored as a temple within Indo-islamic traditions.
1000 Cum Shots | Dir. Wayne Yung | Canada | 2003 | 1 min
A fast paced meditation on race and gay pornography.
Ashes | Dir. Apichatpong Weerasethakul | Thailand | 2012 | 20mins
Ashes contemplates love, pleasure, and the destruction of memory. The surroundings of everyday life are shared with extreme intimacy. For Apichatpong, Thailand, while full of beauty, is slowly collapsing into darkness.
I recommend you watch "Purging" by Nabeela Vega – I keep seeing it in my mind. Also, that night I would have liked to attend the "Wot Sex II" program curated by Ingo I attended Wotever Sex last year and it was really hot.
Sunday evening, my fanciest video yet – "1987, Summer" screened. I am so proud of it, and I was happy to see it looking pretty good on the big screen (I used my phone to make it, and if I would have preferred to use a real camera, but wotever, I wanted to get it made.) I was also happy that the audience laughed at all the right places. I'm finding that humor is a subtle art, or rather, things I think are HILARIOUS aren't always what makes people laugh. (See: "My Craxy Boxers") I was happy that my fabulous hosts, Angie West and Jac Nunns of Looking At You Productions, also had a draft of their new, fun and smart film in this program. For both movies, we were directing people on locations and pushing our work to a more ambitious level of making films.
I was also excited to see the film "A Teenage Melodrama In Four Parts" by Olivia Sparrow. Olivia Sparrow had made the movie "The Very Last Plea From My Heart", Olivia Sparrow, 2012, UK, 00:06:50 From the BFI screening program notes: "The term 'Queer' has enormous scope, encompassing not only LGBTQIA* relationships, but alternatively or non-normatively gendered bodies and different modes of eroticism. In this beautifully shot film, tenderness and longing meet Brutalist architecture as the director explores her love affair with Birmingham Library. Frank and frankly sexy, it fuses the urban space with queer desire and is one of the most compelling and beguiling films we've ever shown.") This film is also one of the most compelling and beguiling films I've ever seen.
The last film in the program was set in Tel Aviv, Israel. It had very high production values. The end credits scrolled by so quickly and were so small, that I wasn't able to read them. It certainly looked like it had some funding, although that might be unfair of me to say, because some films at the program had no funding and were gorgeous. Ok, so I don't consider myself a Debbie Downer, I like to think of myself as a hopeful, fun and non-judgemental person who supports other artists. So it was with some hesitancy that during the post-screening Q & A that I brought up the cultural boycott of Israel. If i remember correctly, I think I said "I don't know anything about who made that last film set in Tel Aviv, but I want to say here that I support the cultural boycott of the state of Israel." The moderator, Stephanie Goldberg, graciously asked me if I would like to say more about that. I said (I think) something about how I reject Israels' attempts at pinkwashing – the fact is that Israel murders Palestinians, so using the LGBTQIA+ film festivals to promote that Israel is a great/humane/welcoming place, is both creepy and plainly wrong. The festival programmers thanked me for addressing this important issue. I think the festival organizers honestly also don't know the provenance of this film, and were glad to have the discussion about BDS at the festival.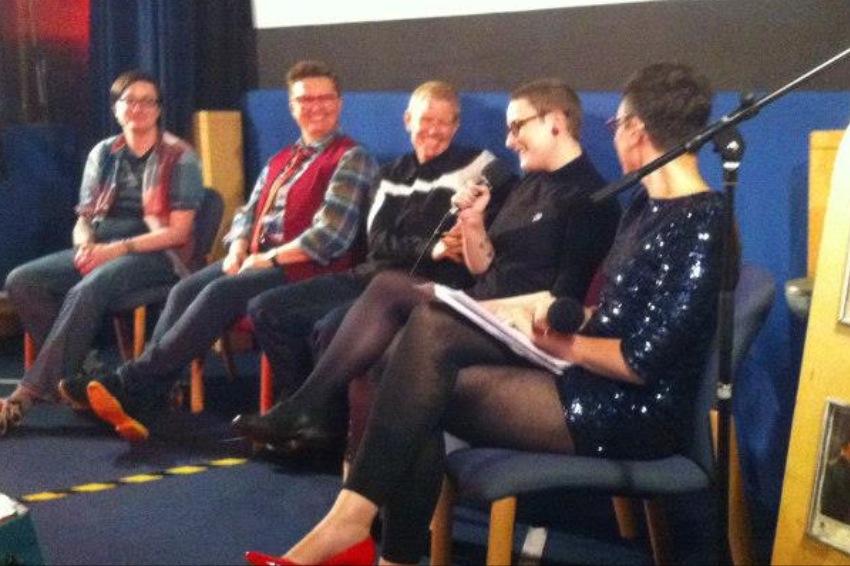 In this photo (l-r) Helen Wright of SQIFF and Lock Up Your Daughters, Jac Nuns of Looking At You Productions, krissy mahan, Olivia Sparrow, and Stephanie Goldberg at the Q & A after this Intergen program, August 23, 2015, The Cinema Museum, London.
August 23, 2015 was the last day of the Wotever DIY Film Festival, and I was sad to see it go. I went with Faith Taylor and her ladyfriend to Shoreditch for dinner, then on to Dalston for drinks, and didn't get home until 4am. (Here's a video I made a video for her song "Foolish Age.")