Wow! So i'm not sure if anyone even reads this, but if you know me, you know that i am very happy to just amuse myself by making movies that sometimes even screen at accessible, friendly, feminist and often queer festivals.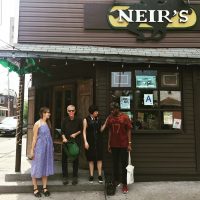 So IMAGINE MY SUPRISE that my movie about my great aunt will be gracing the silver screen across the WORLD, or at least across an ocean. I will add more later, but here's what i can share so far:
Here are the festivals and dates:
Leeds Queer Film Festival
50 Years of Queer Cinema
Saturday 16th September 2017 at Live Art Bistro
More details coming soon…
Scottish Queer International Film Festival
We are super pleased to announce that SQIFF 2017 will take place 27th September to 1st October in Glasgow. We return with our packed programme of screenings, workshops, discussions, and parties creating community and pushing boundaries in LGBTIQ+ film and art. This year SQIFF will be bigger and better, taking place across 5 days! Our main venue will once again be the CCA with events at other venues around the city.