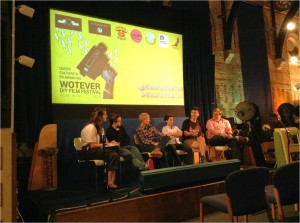 My Flickr photostream of the trip.
Ok so that was one of the best weeks of my life. The organizers, the venues, the films – all were beyond my highest expectations. Here's a little about it, and I'll write about the films next.
As many of you know, i was raised in an emigrant culture that was actively opposed to the continued occupation of the Northern Counties of Ireland. You may interpret actively opposed however you wish. (I wonder what my grandparents would think of this whole Scotland vote thing?) So going to London was something i carefully considered. I asked the organizers if they could help me find a couch, even though i know they would be totally busy. Wow, they hooked me up with not only a couch, but with two lesbian filmmakers with a lovely home! Bonanza!!! i couldn't have had more gracious, generous hosts if i had dreamed them up. I'll always be grateful, and hopefully always be friends with Jackie Nunns and Angie West of Looking At You Productions (They even were a sponsor of the film fest.)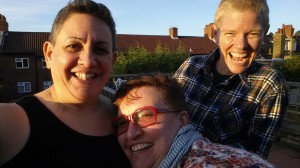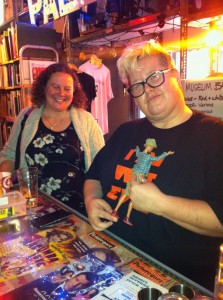 Here are Ingo and Katie from Planet London, one of the festival sponsors. Here is Planet London's review. Here is a review from Kayleigh O'Keefe, she made one of my favorite films in the festival, Flabzilla. Hers is my favorite kind of movie, one that Goes For It. It is the reason i like DIY better than big studio stuff. Kayleigh O'Keefe makes exactly the art she wants to make, and Flabzilla doesn't give a fuck about your opinion. #FierceSexyCool
The Wotever DIY Film Fest is part of the Wotever World utopia. Last year they showed Faggotgirl Does(n't) Do The MTA, and this year they expanded the event to four days and two venues, the Cinema Museum and the Royal Vauxhall Tavern. What a thrill. The Cinema Museum was a magical dream come true. It was a place where Charlie Chaplin lived as a child, and exhibits artifacts, memorabilia and equipment that preserves the history and grandeur of cinema from the 1890s to the present day. On Sunday night, they even showed Chaplin's film The Adventurer the same screen where my video had just been projected. I was so proud.
The last night's venue was the historic Royal Vauxhall Tavern. There was screening of the Defiance program, followed by a party with DJs Hug The DJ and DJ Matheaser.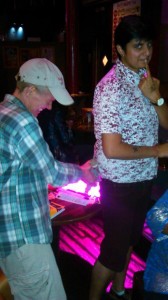 The curators of the festival were Theresa Heath and Tara Brown. Every program was strong and well-conceived. I wonder if the programs could be shown together again somehow, I really appreciated how they were organized.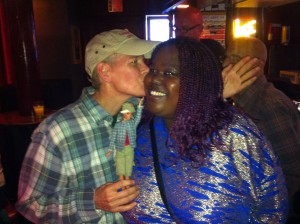 Here we are heralding Tara Brown, Faggotgirl and i are clearly very happy as we have all arms enthusiastically up!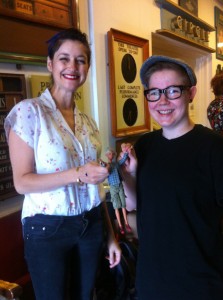 Here we herald Theresa and Leanne Furneaux. Leanne was at every venue long before the audience, and long after. Leanne was doing the work that I usually do at events, so i have a special appreciation.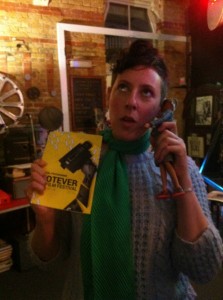 And Stephanie "Gives Good Blurb" Goldberg, who wrote the all the descriptions for the festival program.