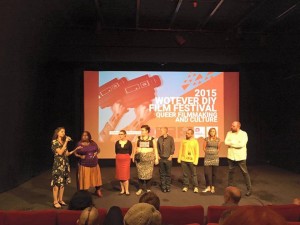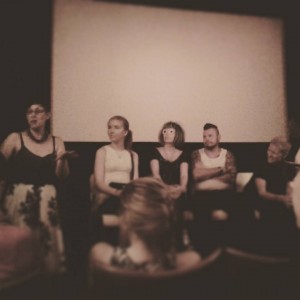 I want my voice my dissent with joyfulness and creativity. I've been richly blessed to be part of transformative creative groups (Holding Our Own, ALLGO, The Austin Project, ASRC, SRLP, artists with whom I've collaborated, etc) and I'm thrilled to say that I've just returned from a film festival that has deepened my commitment to the arts as a site of resistance and disruption of the (murderous) status quo.
I am convinced that meaningful justice movements are built of individuals and small groups who organize around that which affirms their lives, who then respectfully join up their shared voices/strengths in the service of justice for even the most marginalized among us.
Why am I saying all this? Because the films at the Wotever DIY Film Festival 2015 were all individually strong statements, and when seen as a whole The Film Establishment and more generally, the white suprematist neo-liberal project has MUCH TO FEAR from queer filmmakers.
This weekend I hope to write more about the programs I attended and awe-inspiring people I met.