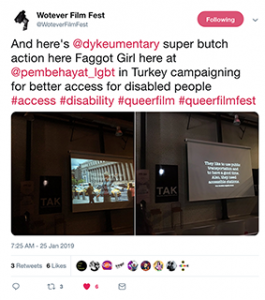 January 24-27, 2019 in Istanbul, Turkey
Screening "Four Billion Reasons" as part of the accessibility strand An Unashamed Claim To Beauty organized and presented by Theresa Heath of Wotever DIY Film Fest.
Pink Life QueerFest organized by Pink Life Lesbian, Gay, Bisexual and Trans (LGBT) Solidarity Association in Ankara, is the first queer festival in Turkey. Film enthusiasts have an opportunity to watch LGBT-themed films from different countries from all around the world. First edition of the festival was held in 2011 in Ankara. Starting from the 4th edition the festival takes place both in Ankara and Istanbul and from the 5th edition, it travels to Denizli, Mersin, Çanakkale and İzmir. The 8th edition will be organized between 10-27 January in Ankara and Istanbul.
Türkiye'nin ilk trans hakları derneği olan Pembe Hayat LGBTT Dayanışma Derneği, 30 Haziran 2006 tarihinde Ankara'da kurulmuştur. Dernek adını Alain Berliner'in yönettiği ve erkek bedeninde doğmuş bir kız çocuğun hikayesinin anlatıldığı Pembe Hayat (Ma vie en rose, 1997) adlı filmden almıştır.
Wotever DIY Film Festivali'nin kurucusu Theresa Heath ise hazırladığı İşte Böyle Güzeliz! Engel(siz)lilik Kesişiminden Kısalar / (An Unashamed Claim to Beauty: Short Films at the Intersection of Queerness and Dis/ability) başlıklı seçkiyle kuirlik ve engel(siz)lilik kesişiminden kısaları KuirFest takipçilerine sunuyor. Seçkinin Tasarım Atölyesi Kadıköy'deki gösteriminin ardından Heath'in katılımıyla bir soru-cevap etkinliği yapılacak.