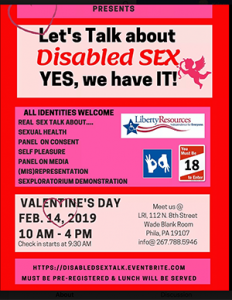 Hello!
Well, 2019 is starting off strong! Here's where some things are happening:
February 14, 2019
I will be on a panel about media representation at:
Let's Talk About Disabled Sex! YES we have IT!
"Let's Talk about Disabled Sex is full day workshop geared towards people with disabilities, but this is an inclusive day. The morning is focused on basics, or sex 101. Participants will work in groups to explore anatomy, LGBTQIA+ terminology, sexual health, HIV/AIDS, and STD/STI prevention. The afternoon are two panel discussions, types of consent and media (mis)representation of disability and sex. We will discuss self pleasure and why it is important to know how you like your body to feel. The last workshop is provided by sexploratorium/Passional Boutique. They will present participants with adult toys and gear that can be used to have more pleasurable sex, and open discussion of how to use them. Lunch is included. This is a safe place. No pictures allowed. #disabledsextalk1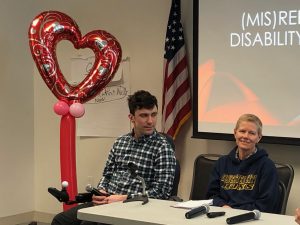 Februrary 21, 2019
FOUR BILLION REASONS will make it's US premiere at the Corvallis Queer Film Festival, held at the Darkside Cinema. This festival is a project based in the School of Language, Culture, and Society at Oregon State University. "The CQFF seeks humanizing narrative and nonfiction films directed and/or produced by trans- and queer-identified people that highlight intersectional identities and complicate discourses of sex, gender, and intimacy."
February 23, 2019
The World Premiere of the 2019 QueerBee Film Festival Fantasy programme at Deptford Cinema in London February 23, 2019 at 3 PM – 5 PM includes my parody CAROL.
"Fantasies are the activity of imagining impossible or improbable things. With the short films from the Fantasy Programme we explore our LGBTQI identities and imagine a different world."
March 2019 All Month on PhillyCam Sunday nights at 10:30pm. Link posted when available!
Thirty minutes of programming will be broadcast to everyone with Comcast cable in the Philadelphia metro area. The 30 minute program has videos about the fight for justice for Mumia Abu-Jamal, regional organizing for healthcare for all, accessibility justice and a conversation about how Mexican-American gay men had to fight the Texas health department to get Spanish-language AIDS prevention services in the 1980s — when gay sex was illegal there.
March 5-11, 2019
New York Feminist Film Week at Anthology Film Archives, New York Ciy
CAROL opens the festival March 5, I am in CampbellX's film DES!RE, which screens March 6th, and on March 8th, Patricia Silva and my collaboration All In A Day's Work will be shown with Bixa Travesty.
March 23, 2019
FOUR BILLION REASONS has been selected by the Leeds Queer Film Festival– a radical revolutionary film festival that I am honored/humbled to be included in again. Here is a link to the full program. My movie screens at 18:00 at the Live Art Bistro in the Pratibha Parmar space.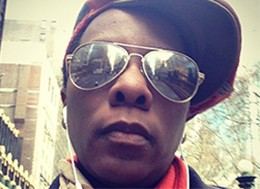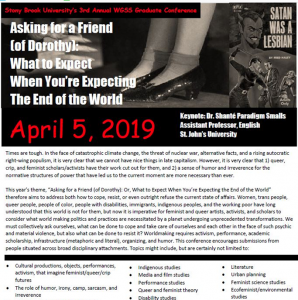 April 5, 2019
Stony Brook University Women's, Gender, and Sexuality Studies
I will be presenting some of my films at this event at Stony Brook University.
2019 Women, Gender and Sexuality Studies Graduate Conference
"Asking for a Friend (of Dorothy): What to Expect When You're Expecting The End of the World"
Keynote: Shanté Paradigm Smalls,
Assistant Professor, English,
St. John's University
This year's conference aims to address both how to cope, resist or even outright refuse the current state of affairs. I'm fairly sure my work was selected for the portion described as, "The role of humor, camp, irony, sarcasm and irreverence."
Shanté Paradigm Smalls is a scholar, artist, and writer. Smalls teaches and researches Black popular culture in music, film, visual art, genre fiction, and other aesthetic forms. Dr. Smalls is currently finishing their first scholarly manuscript, Hip Hop Heresies: Queer Aesthetics in New York City, which won the 2016 CLAGS Fellowship Award for best manuscript in LGBTQ Studies. Smalls' writing has appeared in or is forthcoming in The Black Scholar, GL/Q, Women & Performance, Criticism, Lateral, American Behavioral Scientist, Suspect Thoughts, The Black Scholar, Syndicate Literature, and the Oxford Handbook of Queerness and Music.