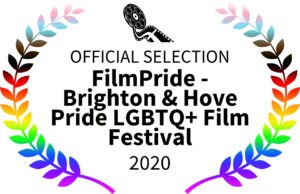 I hope you and your loved ones have stayed safe during these perilous times.
The next screening for CAROL will be in Brighton, UK, as part of FilmPride: The Brighton and Hove Pride Film Festival, August, 2020.
"We are Brighton & Hove Pride's official LGBTQ+ film festival, now in our second year.
Like many festivals in 2020, due to the Covid-19 crisis, we've had to cancel our live events and switch to delivering our programme online. We're proud to be bringing you over 50 fantastic LGBTQ+ short films, documentaries, animations and feature films, along with Q&As with some of the filmmakers. The FilmPride Online Film Festival will run from 17th to 31st August via our partner's website, latestbrighton."
Included in the program are:
I Know Her
Dir: Fawzia Mirza
In the afterglow of a seemingly fated hookup, two women realise that perhaps they have a little too much in common.
Abomination
Dir: Nicky Larkin
A radical Northern Irish theatre company make the world's first documentary opera, taking every homophobic phrase said by the DUP, and putting it to music, verbatim.
Cwch Deilen
Dir: Efa Blosse-mason
Through a striking illustrative style, this is the story of Heledd and Celyn, who navigate the undiscovered and murky waters of entering a new relationship.
The Task
Dir: Sander Houwen, Sjoerd Weening
In a God-fearing village, local goldsmith Alain delivers wedding rings to gay couple Sam and Daan.
Swivel
Dir: Lois Norman
What if, an intimacy of touch, a truth of want, Swivels around your doubt and trusts? What if, love is not a gender, it is a swivel of the heart?
Turn it Around
Dir: Neils Bourgonje
When fifteen year-old Bram falls for Florian at a house party, there's only one problem: nobody knows Bram is gay.
Bath Time
Dir: Alice Trueman
Comedy sketch about the perils of taking a bath when you and your partner are feeling slightly different vibes… From the sketch web-series 'Spoon the Prune'.
Jericho
Dir: Matt Parsons
A brief moment of love, grief and loss.
(F)our Seasons
Dir: Miguel Gabaldón
Throughout the four seasons of the year, four couples meet, live, split and meet again in the cities of Madrid, Chicago and New York.
The Last Romantics
Dir: João Cândido Zacharias
Two young men share different points of view of the same sexual encounter in a public space.
Atomic Love
Dir: Imogen McCluskey
It's 1988. Recently married Dana helps her eternally-single friend Aleea make a video profile for a dating service, provoking a confession which forces them to address the nature of their relationship.
A Big Fat Taiwanese Same-Sex Wedding Banquet
Dir: Larry Tung
To celebrate becoming the first Asian country to legalize same-sex marriage, Taiwan threw a big wedding banquet in front of its Presidential Building in Taipei.
Carol
Dir: Krissy Mahan
This short film is a parody of Todd Haynes' 2015 film "Carol," that presents a hilarious and necessary class analysis, with better sex.
Stallion
Dir: Zachary Smith
Reece, a closeted college football captain, struggles with the toxic behaviours of his teammates, and those behaviours bleeding into his relationship with his partner and fellow teammate, Beau.
Sappho Singing
Dir: Tzeli Hadjidimitriou
The lyric poet Sappho, presented as a modern woman, turns up in her birthplace, Eressos on the island of Lesvos, and moves among its modern-day inhabitants.