I've been reading adrienne maree brown's PLEASURE ACTIVISM and I'm hooked.  Here's a quote from the introduction:  What is Pleasure Activism? Pleasure is a feeling of happy satisfaction and enjoyment. Activism consists of efforts to promote, impede, or direct social, political, economic, or environmental reform or stasis with the desire to make improvements in society.  Pleasure activism is the work we do to reclaim our whole, happy, and satisfiable selves from the impacts, delusions, and limitations of oppression and/or supremacy.
And here is what I did for pleasure this weekend! I played in the queer soccer league's 30th anniversary tournament. I scored two goals!  I have always hoped that my movies could be about serious topics, but presented in a lighthearted and accessible way.  In these murderous times, I often feel like I am doing my cultural work wrong because I use joy/humor. Brown's book restored some confidence that had been slipping since my days of close contact  with Dr. Joni Omi Jones and Sharon Bridgforth, my mentors and teachers at The Austin Project.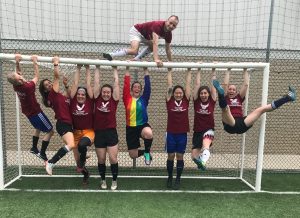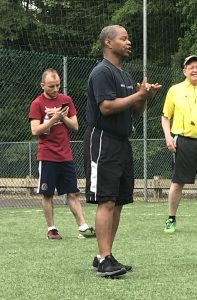 Drew Adair began the Philadelphia Falcons Soccer League as a way for gay men to play competitive recreational soccer, and to reclaim the joy of their bodies during the height of the AIDS crisis.  He kept it going uninterrupted for years through sheer force of will.  I have so much respect for him. Thank you, Drew.
And now to showbiz news….
MY AUNT MAME will be shown this week:  May 30th at the Bechdel Film Festival in Akron, Ohio is showing My Aunt Mame.  I am proud to be in a Bechdel festival, and the movie certainly passes the test of centering women's interactions. I am happy that it is showing right before pride month, as it is about unsung/unknown queer ancestors.  Philadelphia's pride march chose Ed Rendell as a grand marshall.  The courageous actions by Black trans/queer/GNC people at Stonewall in 1969 deserve respect.  I'm sickened yet not surprised that Philadelphia's District Attorney while the MOVE house was bombed, who went on as governor to double the number of prisoners/prisons will be honored. Some people just don't understand that the state and the modern-day enslavement system (prisons) are the biggest predators of trans/GNC/queer/Black/POC/poor people and women. Argh!
Also, I have been re-editing the short I made about 10 (yikes) years ago about a hospitalization in mental health facility, and how gender non-conformity can be pathologized.
After the Bechdel Film Festival, here's what's up:
June 6, 2019
MY AUNT MAME is screening at the at Curzon Soho, in the QueerBee Identity programme  at 6.30pm.
June 20, 2019
MY AUNT MAME will be shown at 7:30pm at the Splice Film Festival being held at the Film Noir Cinema in Brooklyn.  This film is included in the "Comedy, Animation, Documentary" program.
June 22, 2019
I Am/YaliniDream  will be shown at the Splice Film Festival at the Film Noir Cinema in Brooklyn. This collaborative film will screen in the "Video Art & Erotica" program at 7:30pm.
Lately I've directed my attention to supporting Ayanna Ife get her Afro-futurist film project off the ground.  She's working on the screenplay, but has the whole story ready to go in her head.  Because she is blind (and Black and queer), writing the screenplay is even more of a challenge than it is for sighted people.  She needs a piece of equipment that will help her write and edit.  You can support her work via her Patreon:  Ayanna Ife is creating poetry, music, essays, and audio/video content.
And here is a video of her talking about the project and encouraging people to support it.
<iframe width="560″ height="315″ src="https://www.youtube.com/embed/EX72CvghHaY" frameborder="0″ allow="accelerometer; autoplay; encrypted-media; gyroscope; picture-in-picture" allowfullscreen></iframe>