Hello Friends! It is with a grateful and joyous heart that I am writing about the places my films will be shown this Oct – Nov. I am pleased that some movies that haven't been shown much are getting out there to do their work. Here's the schedule:
October 11th 6:30 LIKE A RIOT opens Gender Reel 8th Annual Twin Cities Film Festival at Metropolitan State University (St. Paul, Minnesota).
October 18th 20:15 FAGGOTGIRL GETS BUSY IN THE BATHROOM, as part of the Unashamed Claim To Beauty programme, plays in Hamburg at the Lesbisch Schwule Filmtage Hamburg | International Queer Film Festival, in Kino 3.
November 3rd 6pm CAROL screens at the 2018 Toronto Queer Film Festival at OCAD University.
Tuesday November 6th at 7:30pm (Election Day) Pride Film Festival in Chicago: Pride Arts Center at 4139 N. Broadway The theme is "Queer Survival: Art & Activism Will Set Us Free."  "Faggotgirl In Winter" will be shown.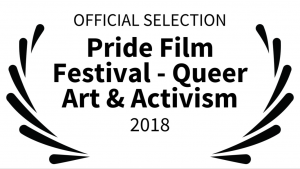 Monthly PRIDE FILM FESTIVAL returns on Tuesday, November 6
Election night special program on theme "Queer Survival: Art & Activism Will Set Us Free"
Chicago, IL – FOR IMMEDIATE RELEASE

Pride Films and Plays' monthly festival of LGBTQ independent short films will return for its second season on Tuesday, November 6, 2018. Ten films chosen from over 120 entries will be screened. In honor of the screening date on Election Day, this inspiring 71-minute program will explore LGBTQ citizen activism. Through dance, food, humor, protest, and the medium of film itself, taking back power happens in large and small ways in this night's theme, "Queer Survival: Art & Activism Will Set Us Free."'
 
The screening will be held in The Broadway, Pride Arts Center, 4139 N. Broadway, Chicago, beginning at 7:30 pm.
Click here for full gallery of photos, or on individual images to access high res files.
November 9th 7pm MY AUNT MAME screens at the Woodbury Queer International Film Festival, at TikiTiki. 
November 17th 21:00 GLOUCESTER CITY, MY TOWN plays in the London Fringe! Film Festival at the Hackney House.
And another glorious festival is on the horizon…