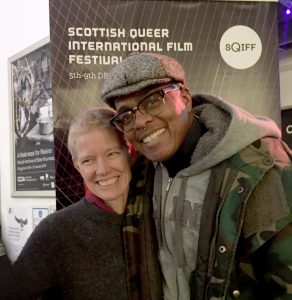 SQIFF 2018 was a fabulous success!  I saw most of my queer film family, although didn't have nearly enough time to just hang out with them and catch up.  But the precious time we did have together will always be treasured.  Some highlights were the World Premiere of Patricia Silva and my film collaboration All In A Day's Work (2018), lots of discussions about accessibility at film festivals, and of course CampbellX (in photo) curating the Opening Night Shorts and seeing his new film VISIBLE.
I attended the shorts programs Queer Arab Lives, Unearthing Trans Legacies, Bodies and Borders (in which our film showed), Overcome, the Bishop Black Retrospective, and Gay As In Hysterically Funny.  I attended the discussions Deaf & Disabled Aesthetics in Film, part of Creating Online Content with BBC: The Social, and Meet The SQIFF Programmers (so interesting!)
Between programs, I enjoyed meeting with other filmmakers, particularly Sonya Mulligan and the brilliant duo from CinemQ in Shanghai, who are both in this photo: It had been a year since I was able to travel – and actually it was to SQIFF 2017! These annual gatherings of trans-affirming, feminist, committed-to-accessibility film people nourish me to keep producing my films all year. I know that this group of people is exactly the people with whom I want to move into the future of film. 
We wanted to launch of All In A Day's Work at SQIFF, and worked diligently to have it completed on time.  I know the film will do good work in the world, with such a send-off among good people.
Thank you, Team SQIFF, Helen Wright, Marc David Jacobs, Alison Smith, Samar Ziadat, Kate Adair, Leanne Dawson and Laura Wylie and (special warm thanks to Guest Coordinator) Lucy Rosenstiel,  – for creating a welcoming, rigorous, accessible film adventure for all of us.