I'm humbled and honored that my work has been included in the following festivals this fall. I wish I could attend them all.
Transstellar Film Festival  – World Premiere
28 September 2019, 9:15 PM  Cinema Detroit, Detroit, MI, USA
Experimental Shorts
Intrinsic Moral Evil, Dir: Harm Weistra
My Crazy Boxers, Dir: krissy mahan
Another Woman's Scent, Dirs: Angie West, Jackie Nunns
Stella Erratica, Dir: Ben Barton
Reality Fragment 160921, Dir: Jasmine Lin, April Lin
Broken Doll, Dir: Gaspar Aguirre, Román Sovrano
Respect Belfast Human Rights Film Festival
6 October 2019,  4PM- 6 pm AN CULTÚRLANN, Belfast, Northern Counties of the Republic of Ireland
Cultúrlann Mc Adam Ó Fiaich is an Irish language, arts and cultural centre located at the heart of West Belfast on the Falls Road.
Program 3:
NATION YOUR NATION Director: Frederick Kelly Duration: 7mn
Duration: 7mn
A woman undertakes the 'Life in the UK Test'. Through her eyes, 'Nation Your Nation' questions the means by which nation states determine people's identities and futures.
ACAIACA Director: Wagner Cinelli Duration: 7mn
Acaiaca is based on a legend about a sacred cedar that was chopped down by the Portuguese, which caused the destruction of the nearby Puri Indian tribe in just one night. The Legend of Acaiaca was portrayed in the novel Acayaca 1729, by 19th Century Brazilian writer Joaquim Felicio dos Santos. The song was recorded in April/2017 by Urca Bossa Jazz, and it is one of the last works of percussionist Laudir de Oliveira
MAMA MAMA Director: EDUARDO VIEITEZ Duration: 9mnA
Syrian refugee girl trying to stay alive and make her way out finding a new home in a massive exodus under the Syrian civil war.
COLD FISH Director: David Hay Duration: 11mn
An old man wants to commit suicide but a young boy stops him. Notbecause he wants to save him butbecause he wants him to do the deed.
CRESCENT Director: Edward Heredia Duration: 7mn Moving into their new home, CelinaSmith struggles to cope with her daily life. As her concept of time becomes elusive, she begins to fear for hersanity. Her husband, Patrick Smith, tries to support her through prescribed medication but Celina continues to manically believe that itis the clocks in the house that are controlling her. After struggling to find proof, she manages to create a sundial in the garden and discovers herhusband's controlling ways.
I AM/YALINI DREAM Director: YaliniDream and Krissy Mahan, 2019, 2 min, USA. Open captioned version available.
YaliniDream — Lankan Tamil Blood, Manchester-Born, Texas-Bred and Brooklyn-Brewed, performs a poem of refugee/migrant love for self and the world, through dance and a hiphop beat. Directors:
I AM SORRY Director: Kamil Olejnik Duration: 3mn To complete the path that leads to his redemption, a condemned man writes a letter of forgiveness. By offering this letter to his children, he fulfills his most cherished desire to break the cycle of violence that destroys his family from generation to generation.
THEY/THEM Director: Bo Beaufill Duration: 19mn Ash has always been very good with their words, however recently theyhaven't been able to express themself. They realise that not everything is in blue and pink as they struggle to findtheir gender identity in a world resistant to change.
INFERNO Director: Cristiano Gazzarrini Duration: 4mn
In una cucina di un appartamento qualunque, un uomo è intento a tagliare un pezzo di carne. In camera da letto una donna giace sul letto. I suoni e i rumori di una violenta aggressione di un uomo ai danni di una donna echeggiano nell'ambiente.
A PAIN OF THE COLOUR HOMELAND Director: Nasim Ostovar Duration: 7mnRezvan with 30 years of age has to sew at home to earn money for her husband Hamid and their son Arman. Hamid just yells, breaks and beats Rezvan and Arman. what should Rezvan do? they say Hamid is crazy?
I SOGNI SOSPESI Director: Manuela Tempesta Duration: 12mn Marlène is a beautiful and restless French artist who expresses her creative talent by painting, with her naked body, a white canvas hanging in a cottage. The girl has fled her home country with her sister Sophie, who tries to stay close to her and supports her day after day. Their past is marked by a terrible secret, an event happened a long time before which deeply marked them, forcing them to flee to Italy.
HOME Director: Benjamin Harris Duration: 19mn
When a lonely young girl meets a local farmhand claiming to be held captive, can she help him or will his secret keep them both prisoner?
Scottish Queer International Film Festival, Glasgow, UK
3 October 2019, 3:00 pm – 4:10 pm, Center for Contemporary Arts
I Am/YaliniDream  (2m) Dir: YaliniDream, Krissy Mahan, Country: USA, Year: 2019, Language/s: English
Screening with:
tenderfluid (3m) Dir: Liberty Antonia Sadler, Country: UK, Year: 2019, Language/s: English
Ponyboi (19m). Dir: River Gallo, Sade Clacken Joseph, Country: USA, Year: 2019, Language/s: English
The Wind on your Skin (18m). Dir: Naomi Beukes, Country: Namibia, Year: 2018, Language/s: English
Eyes (5m). Dir: Lily Ash Sakula, Country: UK, Year: 2019, Language/s: English
BLACKN3SS (22m). Dir: Diego Paulino, Country: Brazil, Year: 2018, Language/s: Portuguese
My Spine is a Beautiful Sea Monster (2m). Dir: Theresa Heath-Ellul, Country: UK, Year: 2019, Language/s: English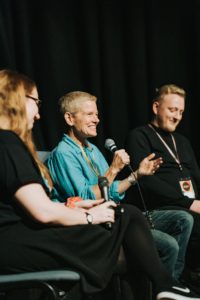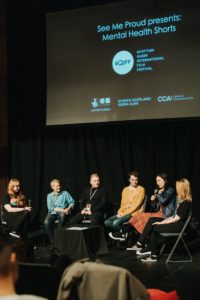 4 October 2019, 12.30 pm – 2:30 pm, CCA Theatre
My Crazy Boxers
See Me Proud presents: Mental Health Shorts
We know that mental health issues disproportionately affect LGBTQIA+ individuals and communities, who often experience difficulties in accessing support. To create space for discussion and representation of these topics, we've curated a collection of insightful and powerful shorts in partnership with See Me Proud. Topics covered include depression, anxiety, loneliness, irrational thoughts, living with bipolar disorder, medication, and queerphobia encountered whilst obtaining treatment. The films incorporate a diversity of identities and styles, including animation, experimental, documentary, and sci-fi.Followed by a discussion on themes raised in the films with See Me Proud.With refreshments sponsored by Clever Kombucha.