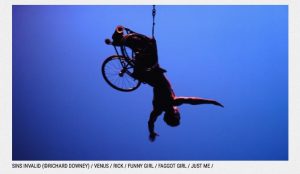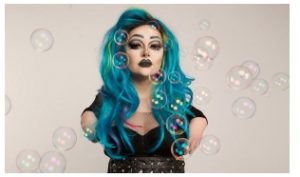 An Unashamed Claim to Visibility:
short films at the intersection of queerness and dis/ability
Presented by Fringe! Queer Film & Arts Fest, London, Wotever DIY Film Fest, and the Queer Film Network.
+ a post-screening discussion
+ performance by Ebony Rose Dark
Sunday 29 April at the Cinema Museum @ 17:30.
As queer communities strive to embrace intersectional politics, those with a disability or functional diversity are often left behind. Despite the higher prevalence of disability among LGBTIQA+ communities, disabled, D/deaf, visually impaired, learning disabled and/or chronically ill queers are often excluded from queer spaces and queer screens. More recently, a growing body of work is redressing this balance and bringing previously invisible stories to the forefront of the conversation.
This programme presents an exciting selection of performative work by and about functionally diverse filmmakers exploring the intersections of queerness and disability. From beautifully-rendered tales of forbidden love to how to get jiggy in (accessible) bathrooms, this collection of hilarious, agonising, erotic, tender and sexy shorts represents an unashamed claim to beauty, desire, autonomy and, above all, visibility.
A collaboration between Wotever DIY Film Festival, Fringe! Queer Film & Arts Fest, and the Queer Film Network
Films runtime: 81min
Just Me
Dir. Matthew Kennedy | 2014 UK | 2'54
Fresh, frank and low-fi, Matthew Kennedy's performance of selfhood tackles labelling and prejudice towards queerness, being femme, and having a learning disability.
Venus
Dir. Faye Carr-Wilson | 2016 UK | 5'41
"I think of my drag as kind of a big Fuck You to everyone," says the incandescent Venus Dimilo in this forthright documentary portrait about taking up the space you deserve.
Funny GIrl
Dir. Rosina Andreaou | 2017 UK | 6'10
Exploring the on and offstage comedy of Rosie Jones, this documentary questions stereotypes about disability, sexuality, and being a Northerner.
What Lies Beneath
Dir. Sandra Alland, Ani Urbanowska | 2018 UK| 5'35
In a visceral and wrenching address, poet Alison Smith performs her poem in BSL of medical and emotional trauma, of a desperate need to be recognised and to feel basic human compassion in a sterile environment.
Faggotgirl Gets Busy In The Bathroom
Dir. Krissy Mahan | 2016 USA | 3'39
Mahan's disability-rights campaigning, alter-ego butch dyke genderqueer superhero Faggot Girl relentlessly crusades for greater accessibility, arguing that access is a queer issue. In this episode they demonstrate why public bathrooms are a crucial frontier in the fight for equality, and how hot sex and accessibility principles share common ground.
Bars
Dir. Christine Bylund | 2013 Sweden| 8'14
The bittersweet story of love between two girls in a Swedish residential home for young people with disabilities, this performed monologue is brimming with sensuality as it questions who is allowed to love.
Rick
Dir. Jan-Peter Horstmann | 2017 Germany| 15'33
Ricco Müller was crowned Mr Gay Switzerland in 2009 and now finds a home under the bright lights of the adult film set as Rick Lous, coming into himself away from the limitations that society has tried to put on him as a gay, D/deaf person.
Sins Invalid: An Unashamed Claim to Beauty
Dir. Patty Berne | 2013 USA | 33'00
A provocative and unflinching documentary shining a light on Sins Invalid, a performance project on disability and sexuality that incubates and celebrates artists with disabilities, centralizing artists of colour and queer and gender-variant artists. Featuring performances by Nomy Lamm, Cara Page, Maria Palacios, ET Russian, Antoine Hunter, Leah Lakshmi Piepzna-Samarasinha , seeley quest, Mat Fraser and Rodney Bell.
PERFORMANCE: Ebony Rose Dark
Ebony Rose Dark is your all singing/lip syncing all dancing, Story Telling, V.I.P/Visually Impaired cabaret artist. A feisty Birmingham Lass who loves a party, with big red lips and snaking hips – she's a diva and a half but with a heart of gold.
She is currently artist in residence at RVT's Bar Wotever, and performs nationally and internationally in theatres, bars, pubs and community settings. Recent works include Dance solo at Wardrobe theatre Bristol at 2017 Pre Bristol Pride Party as well as Performing at Brighton Pride Party 2017 at the Marlborough pub theatre.
Photo of Ebony Rose Dark on a stage. She wears a flowy bright orange dress and strong glitter eyeshadow. Her arms are raised up in the air to form the letter Y in front of a silver curtain.
Important Information
Access Information:
This film screening will have closed captions, audio description, and BSL interpretation for introduction/Q&A. Large Print programme notes will be available on the night.
The venue is wheelchair access via a lift from the ground floor (with accessible loo) to the first floor (the screening room). There are a few disabled parking spaces directly outside the main door of the venue. Service dogs welcome.
Tickets:
Advance booking recommended using Eventbright, but a limited number of tickets will be available on the door on the day (cash only).
Refreshments:
The venue operates a small bar/cafe with basic snacks, soft drinks, beer and wine at very reasonable prices (cash only).
Contact Us:
Please contact us if you have any additional requirements at woteverfilm@gmail.com or on 07790612415
This film programme is part of a nationwide tour as part of the Queer Film Network.
QFN is a strategic Film Hub Wales project and receives support from the BFI Film Audience Network