Amid an absurd world, some of my movies are being shown at festivals.  I offer them in the spirit of hope and healing.
Translations: Seattle Transgender Film Festival, May 5-8, 2022. "Mickey or Minnie" World Premiere.
In the "Blender" program:  Mix an ounce of puppetry, a dash of sorcery, two cups of mythological baby, six grams of Minnie Mouse, a whisper of archival footage, one vial of testosterone, and a capful of the subconscious. Pour into a vessel of your choice. Sprinkle with a vigilante cowgirl and garnish with youthful optimism. (Full program below)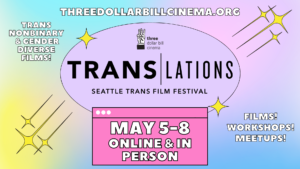 May 26-29, 2022,  Cinema Systers Film Festival  will be showing "#DaughterFail"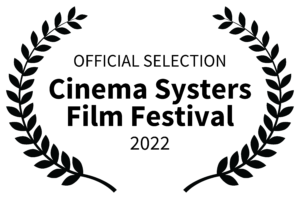 Translations Film Festival "Blender" program:
BLACKOUT:  Milo Clairmont (he/him); 2021; USA; 3 min.In this digital animation, a young trans man faced with fatigue and depersonalization embarks on a journey through his subconscious. In the process, he is forced to confront the painful source of his despair.
BALLAD OF YUKA:  GJ Pelczar; 2021; USA; 4 minIn this surrealist, stop motion, acid western, a vigilante cowgirl comes to town with one goal: taking down a mysterious outlaw.
MICKEY OR MINNIE:  Krissy Mahan; 2022; USA; 2 min.A gender nonconforming person is policed by Minnie Mouse en route to the restroom.
HELLO MY NAME IS SARA:  Sarah Hill (they/them); 2022; USA; 10 min.This mixed media compilation featuring puppetry, paper dolls, and archival footage seeks to answer the age-old question; what's in a name? The film explores the moments of awkwardness, humor, and self-actualization that come with settling into your name.
IMAGINE A BODY:  Connor O'Keefe (he/him); 2021; USA; 8 min.This immersive mixed media documentary undulates through a range of emotions as it reflects  on the physical, social, and emotional experiences of taking testosterone.
CHILD OF POLYCRITUS – Audio Descriptive Version Available:  Lauren John Joseph (they/them); 2021; UK; 18 min.A witty, effervescent historiography in which a mythological baby, nail salon, and cinema-goers collide as their self-articulated genders link them through time and space.
POPPETS:  Maz Murray (they/them); 2022, UK; 16 min.An absurdist soap opera that spans four generations, a housing development malpractice suit, and just a dash of sorcery.
MAMA HAS A MUSTACHE". Sally Rubin (she/her); 2021; USA; 10 min.This film combines audio interviews of young children, clip-art, and mixed media to create a world outside the gender binary, a world often easier for children to see.
TO THE FUTURE WITH LOVE:  Shaleece Haas (she/her); USA; 6 min.Hunter "Pixel" Jimenez, a 19 year old, nonbinary, Guatamalan just wants to live happily ever after with his long-distance boyfriend in this endearing animated self-portrait.