About
Krissy Mahan CV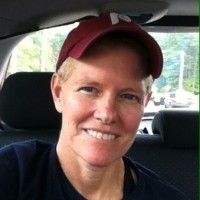 Bio:
Krissy Mahan is a working class daughter, artist, and professional handyman determined to create a world that is more fun for everyone. Mahan taught herself how to make movies in the early 1990s and hasn't stopped amusing herself since. Over the past twenty years Mahan has developed a body of work exposing the absurdity of man-made barriers to human movement, happiness, and social access.
Her work has been screened at Anthology Film Archives as part of the inaugural Feminist Film Week (NYC), the British Film Institute (London), Union Docs (Brooklyn), Tisch Film School at New York University with GenderReel, BFI's "Queer Women In Love" program (various UK locations), Wotever DIY Film Festival (London), Scottish Queer International Film Fest (Glasgow), GAZE Film Festival (Dublin), Creative Quarters Folkstone, Kent (UK), Oska Bright program of Leeds Film Festival (UK), Women Over 50 Film Festival, Brighton (UK), Austin Gay/Lesbian International Film Festival (US).
Academic Screenings: International Center For Photography (NYC), University College (London), Kingston University (UK).
She's been making movies about accessibility justice ( Faggotgirl Gets Busy In The Bathroom, 2016, Until Justice Rolls, 2014,Faggotgirl Doesn't Do the MTA, 2013, Faggotgirl in Winter, 2015), immigration (Faggotgirl Does Day Labor, 2006, Not One More Deportation, 2014), and , mental health/suicide of queer women ( My Crazy Boxers and Monique C.) gender identity (Potato/Potato, 2005, Mickey or Minnie, 2014), my dying post-industrial neighborhood (My Hometown, 2006, Gloucester City — My Home Town, 2012), and of course movies about picking up femmes (Faggotgirl Does Austin, 2004, Faggotgirl Does The West Village, 2009).
Krissy Mahan started making "dykeumentaries" during the late 1980s, when evidence of queerness, mental illness, and drug-addiction, was eliminated at friends'/relatives family events, even funerals. (Often by people who thought they were being kind.) And there were many funerals of queer people to attend in those days, because of AIDS and aversion to negative judgements from healthcare providers.
Since then her media empire has grown to include films that firmly yet happily establish the beauty and resiliency of people outside the mainstream.
Longer bio:
As the second daughter of a working class family, it was always expected that I would never leave our neighborhood, that I would marry a local boy who worked at the shipyard, and raise lots of working class children. No one really counted on me growing up to be a butch dyke, or that the world would become so difficult to flourish in. I see these challenges as a place for creative exploration in the service of a more just society.
I think since the AIDS years (the years I was coming out) the popular queer visual artists and their supporters have been eager to show how deserving they are of full citizenship in the genocidal American, capitalist, neoliberal project. Alternately, some have chosen to focus on how SEPARATE they are from everybody else, existing within only the context of their sexuality. That is not what i am doing.
I'm excited to tell funny stories about, and to, working class people dealing with the absurd difficulties of 21st century life in the post-industrial northeast – surviving in a failed economy, adapting to aging bodies (our own and our parents), and challenging the xenophobia that is being encouraged in poor communities. I'd like to make everyday queers like me, be very visible and seen as the force for good that we were raised to be. I'm talking about and to queer people who have never been to a film festival or an art gallery in their lives. I'm talking to and about those of us who have cousins who died of AIDS from dirty needles, can't afford a place to live, oppose police brutality but who love our brothers who are cops, care about friends who are drunks, and who have aging parents on public assistance.
I am an unrepentant optimist, even though I live and work near the blighted wasteland of post-manufacturing cities like Camden, NJ, and use public transportation. I see my relatives who worked their whole lives, struggling to retain their dignity against a system that they erroneously thought was on their side.
My family loves to have a good time, so the movies I make are funny, or at least not depressing, regardless of the subject matter.
I've been making things my whole life. I've created pictures with cut paper since I was since I was a child. These pictures started out as my way of processing the news photos of the Viet Nam war, and have continued to be my way of dealing with the world. I have shown these pieces in galleries and at a university, and they were used as graphics for a conference at the Virginia Foundation for the Humanities in 2002.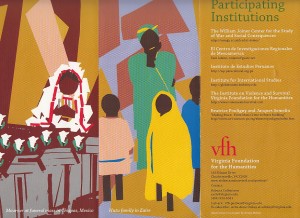 I recommend you read Dean Spade's book "Normal Life: Administrative Violence, Critical Trans Politics and The Limits of Law, South End Press, 2001.)