Krissy Mahan has been making movies using humor as a feminist tool for 25 years. Mahan's movies center the social failures around accessibility, gender identity, mental health, immigration, and working class post-industrial cities. Mahan teaches in public elementary schools, and has recently screened at the 2017 and 2018 New York Feminist Film Week, Women Over 50 Film Festival, Brighton, UK; the London Fringe! Film Festival, London, UK; Scottish Queer International Film Festival, Glasgow, the Dyke Drama Film Fest in Perth, Australia, and screenings in support of community groups, such as mental health and HIV support groups, and festivals that focus on dis/Ability and queerness.
She is a perennial favorite at the Wotever DIY Film Festival, London, UK.
Upcoming Screenings


My Aunt Mame was selected to the 31st annual All Genders, Lifestyles, and Identities Film Festival (aGLIFF), taking place September 6-9, 2018 in Austin, TX, in the Dramatic Shorts program.
Recent Screening
London, UK: On 14 July 2018, PositiveEast and ELOP LGBT Mental Health and Well-Being are hosting an empowering day of fun, acceptance, workshops, Indian head massages, sexual health advice and information, HIV/STI testing. lunch refreshments and short films.
The films being show are the queer shorts that were selected for the 2017 Women Over 50 Film Festival, which MY AUNT MAME is proudly part of.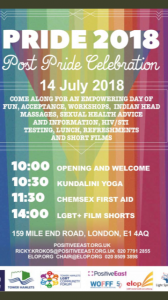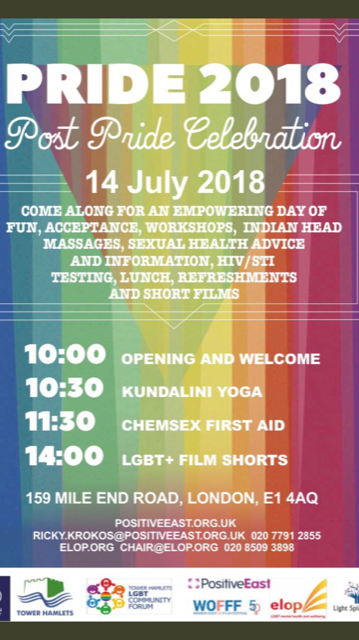 An Unashamed Claim to Visibility: Shorts At The Intersection of Queerness and Disability
With Special Performance by Ebony Rose Dark
Presented by Fringe! Queer Film & Arts Fest, Wotever DIY Film Festival and the Queer Film Network.Tour to three cities all with accessible screenings;
Brighton, Glasgow, London 2018
The Cinema Museum, London, UK