Hello Friends-
Of course I want to do everything I can to help people, but i would prefer to help with the product of my tools, not the tools themselves.  Someone stole my computer, and no, it wasn't my fault.
I am humbly asking (anyone who can) to chip in a few dollars to send it my way.  I wasn't going to ask for help, but today i woke up to this comment on my YouTube channel www.dykeumentary.com/dykeumentary1 :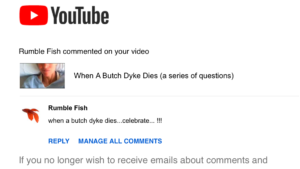 And now i am REALLY sad. And mad.
I have a PayPal account AccessKMS@gmail.com and i have Venmo. which is @K-Samms. (the dykeumentary logo is the symbol next to it).
My next project is a remake of Top Gun.  For every donation, I will make a lesbian vampire who will attack Tom's Cruise's airplane until it crashes.   If you want I can name the vampire after you on the little softball jerseys they will be wearing as the whole flock of them destroys him and all that "white amerikan military guys who still manage to feel oppressed" stand for.
Thank you for al your support through the years.  I really appreciate it.
krissy
Here's the video that made them want to kill me: